A report from global analysts Gartner has found that only 13% of organisations can spot a performance issue before it hits the financials.
The implication of this is extremely costly – an emerging problem has to reach the point of hurting the business before it can be addressed.
In the same research, it's established that the average organisation spends 34% more time than they should to remediate performance issues. Overall, 4 out of 5 businesses take too long to tackle problems once they are identified.
What's the hold up?
In 'Preparing for the Next Level of Financial Planning and Analysis' (a report we referenced in our last post) the Association of Finance Professionals identified and discussed the four 'maturity levels' of FP&A activities.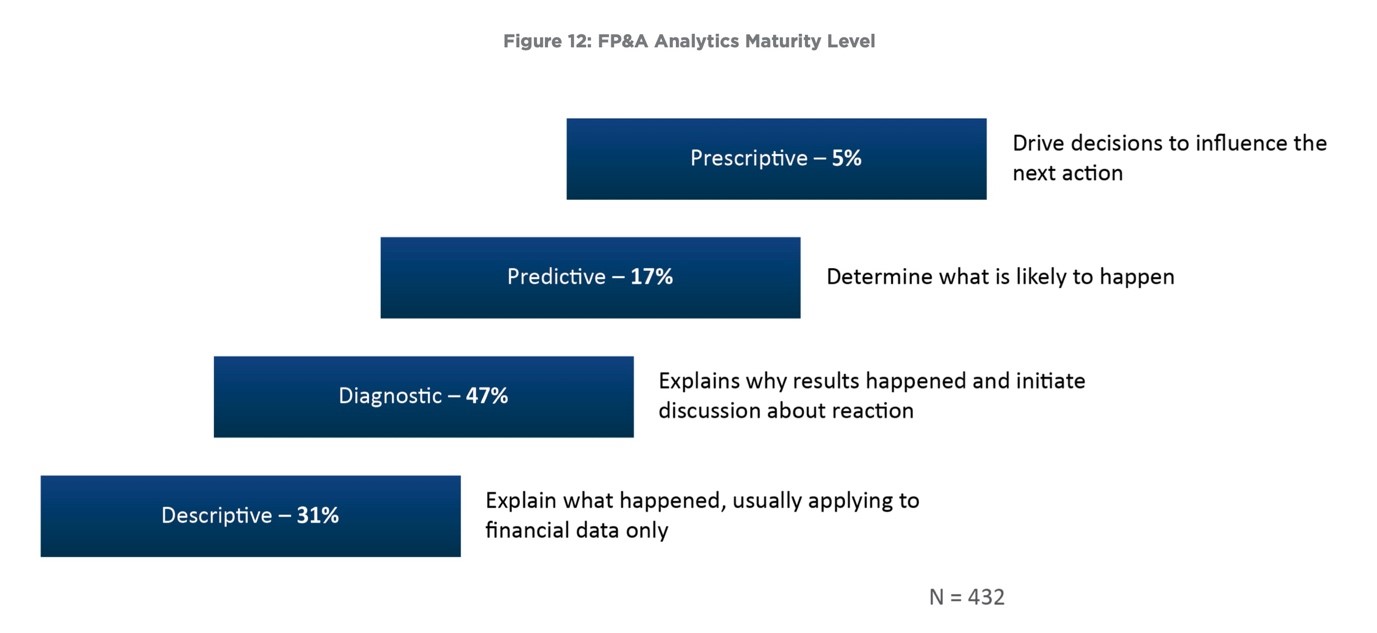 Only 22% of organisations characterised their analytics as forward-focused – either predictive or prescriptive. The majority (78%) were either reporting on something that has happened (descriptive) or trying to explain why (diagnostic).
These reactive approaches explain the slow response speeds when it comes to performance issues. The report also provides insight into the root cause: 77% of time is spent on the gathering of data and administering the process. As we discovered in our last post, this figure hasn't changed much in the last decade.
With so little resource left available for value-adding activities, it's hardly surprising that there's not enough time to identify and analyse leading indicators of emerging problems in a way that is predictive or even prescriptive.
Identify and remedy
When performance issues are recognised only as they begin to have an impact on the financial health of an organisation, it can be too late to take any meaningful action. Problems that can be identified whilst still emergent, however, can be proactively managed, with new business courses being set where required.
The ability to acknowledge and act on these performance issues requires significant capability within the finance function:
A clear understanding of the drivers of the business (and how they may be changing)
Real-time (or at the very least, near-time) information on these drivers
Actionable management information.
Additionally, there must be dialogue and collaborative behaviour in place across the business in order to evaluate emerging scenarios and the possible reactions.
What's holding you back?
The AFP research identifies the key barriers to achieving this FP&A capability:

As mentioned above, moving away from the siloed approach so often seen in the past and enhancing engagement with the finance team is necessary to be able to take an agile approach.
But this alone isn't enough – if your team are reliant on spreadsheets and don't have access to tools capable of providing the information required to drive insight, it won't make a difference.
Powering profitable decision making
The ultimate goal is undoubtedly an agile FP&A process driving proactive issue resolution before negative impact can be felt. The maturity characteristics above map almost exactly to the top four levels of our journey to profitable decision making. As we've highlighted before, if you're at the start of that route map, the barriers can seem daunting, but they are not insurmountable.
The best first step? Equip your team with a system that will allow them to spend less time gathering and consolidating data and more time identifying and analysing emerging scenarios. With IBM's Planning Analytics on Demand, organisations of all sizes have access to tools which will allow them to catch issues before they hit the financials. Get in touch today to discover how Planning Analytics can speed up issue identification and resolution in your organisation.