There has been incredible hype around artificial intelligence, machine learning and intelligent automation.
The emerging technology has been presented as both a threat and the source of opportunity – particularly within the finance function.  
Some of the claims have been wildly inaccurate. This is mainly due to confusion among the public and the media regarding what the three areas actually constitute.  
To clarify: 
Intelligent automation is merely software following instructions

.

 
Machine learning is based on algorithms that allow computer programs to automatically improve

 and evolve

 through experience

.

 

Artificial intelligence is a bit harder to define but, in a nutshell, it is the process of making computers behave in wa

ys that were previously believed to require human intelligence.

 
Taken in combination, these elements present opportunities in two key areas: 
Process efficiency

 

Business insights

 
Build processes that boost efficiency
If we consider potential efficiencies, the opportunities for gains are high. McKinsey & Company have shown that technology could be used to fully automate 42% of finance activities and mostly automate a further 19%.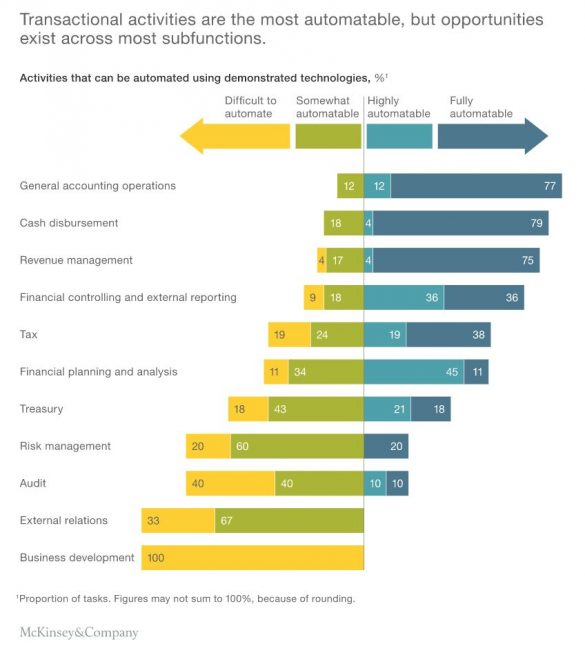 These activities primarily consist of: 
Tasks required for

 standard management reporting

 

Consolidating and validating budget and forecast inputs

 

Gathering and cleaning data for analysis

 
These steps are merely task automation but it's clearly an excellent place to start given how great the potential is for freeing up the finance team for other, value-added, activity.  
The approach we suggest taking (a view McKinsey share) is to rethink the people and processes in your team, applying the technology where applicable.  
Don't have your team members engaged in time-intensive activities that aren't adding immediate value. Apply a technology solution to these necessary tasks in order to focus 

collective brainpower on the more valuable tasks which would benefit from the hands-on attention of a person rather than a machine. For instance,

IBM Planning An

a

lytics o

n

 Demand reduces build time by

using AI to transform spreadsheets into

cubes of 

information

.

 

Focus on the process first and make the technology work towards it after. The finance team needs to lead the transformation to create a system that will save time and money rather than having an IT project foisted on them. 

TM1's 'black box'

 allows finance to build exactly what is required

rather than settling for an off-the-shelf solution.

 

Rather than looking to reduce your costs, aim for increased value. Instead of generating the same output with fewer resources, focus on boosting performance and productivity. 

 
Achieve greater insight
If automation drives efficiency, AI and machine learning lead the way in delivering greater insight. Combing through data to identify patterns that your finance team don't have the time – and sometimes awareness – to find, these technologies can be used to reveal new insight and improve decision making within the business. Not only are your finance team able to develop a better understanding of what lies behind the numbers, they're uncovering the information more efficiently. 
Artificial intelligence is still a long way off replacing the complexity of the human mind. Rather than acting as a substitute for your team, this technology should be used by your team to enhance their ability to make profitable decisions. To use a phrase from IBM's Ginni Rometty, it should perhaps be known as 'augmented intelligence' for what it can deliver to FP&A.  
Specific applications
There is clear business value to be derived from making the most out of the capabilities of AI: 
Testing hypotheses. Having the ability to create a model (within sandboxing in Planning Analytics this can be done without impacting on any existing planning) and use AI to project specific patterns forward reveals insights that would be impossible to achieve with less sophisticated technology. 

 

Speeding up decision making. Faster access to more reliable in

formation equips your team to make far quicker decisions.

 

Triggering data-led actions. AI can alert you, in real time, to unexpected patterns and make recommendations for different outcomes when variables change.  

 
Get started
The notion of AI, machine learning and automation doesn't have to be overwhelming. If you take the first steps of improving your processes and increasing your efficiency, you'll see immediate, tangible gains from making the most out of the technology available.  
Using the Planning Analytics software will enable you to release current constraints on the FP&A brainpower available, creating the capacity to augment the insights that your team can provide. Get in touch today to find out more about the first steps to making this technology really work for you.